About US
AB Consultants, Inc. is a leading multidisciplinary consulting and engineering firm in the Baltimore-Washington area. With offices in both Baltimore and Lanham, we serve clients in Maryland, Virginia, Delaware and Washington, D.C.
Founded in 1993, AB provides professional engineering and engineering support services in several areas, including: Land Surveying; Land Planning; Environmental Sciences (Wetlands, Streams, Forests); Stream Restoration Design; Landscape Architecture; Site Civil & Highway Engineering; Hydraulic/Hydrologic Engineering; Structural Engineering; Environmental Site Assessments; Geotechnical Engineering; Utility Engineering; Subsurface Utility Exploration; Construction Management; Construction Inspection; and Materials Testing.
Along with being a minority-owned small business, AB is unique because of the wide variety of services we offer. Rather than having to hire several companies to complete your engineering project, you can choose AB to handle everything. Our knowledgeable staff and their commitment to teamwork and quality allows us to be a "one-stop-shop" for all your civil engineering design projects.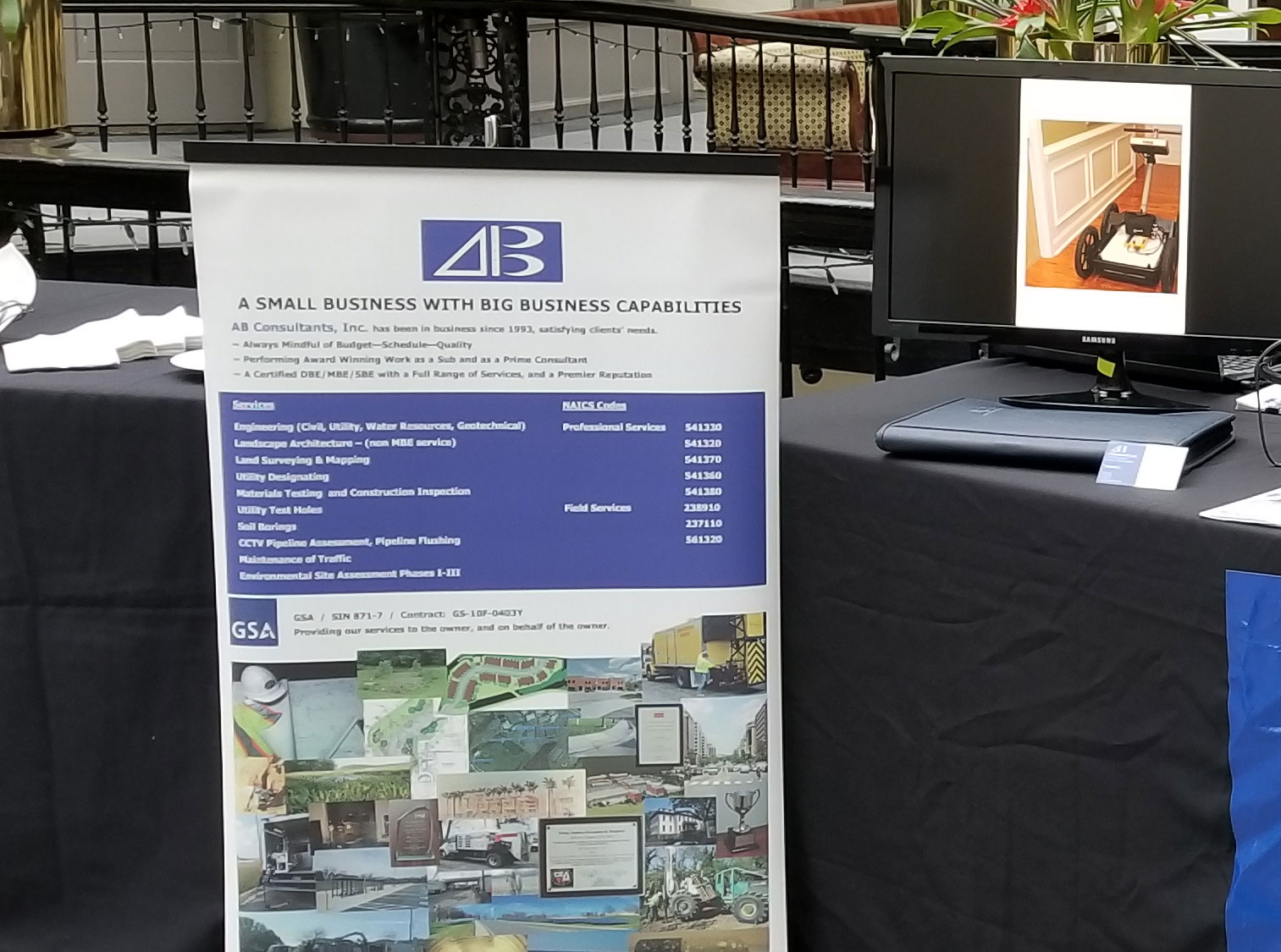 Our Mission
AB Consultants takes pride in providing our clients with high-quality, cost-effective engineering solutions. Whether you hire us for land surveying, SUE work, stormwater management, geotechnical engineering or something else, our staff will always keep AB's overall mission in mind:
Maintain a leadership role in the profession through continued excellence in supplying any or all of our services
Perform services with a "Total Project Mindset" by using experienced professionals, maintaining close client communication, and carrying the project from planning through construction.
Maintain well-managed contract administration to achieve efficient, cost-effective, and timely progress throughout the project
Ensure excellent quality assurance and quality control
Your (AB's) collaboration, cooperation, and responsiveness have been a key part of the work done to date. As you heard in the PI meeting...: 'Good set of plans, especially for the first set, and will be a template for others coming through.' Our group looks forward to continuing to work with you on this and other projects.
Director – Water Resources Department, BRUDIS & ASSOCIATES, INC.
Your company plays an important role in our community, providing jobs and revenues that help improve the quality of life for our residents and businesses.
Rushern L. Baker III, County Executive, Prince George's County Economic Development
The AE (AB) was extremely responsive and accessible on this project. The PDT was very pleased.
US Army Corps of Engineers
The Contractor (AB) did a great job...
US Army Corps of Engineers
AB Consultants' outstanding technical expertise and innovation, conscientiousness, and integrity resulted in a single modification to relocate an existing utility. AB Consultants completed the project on time, and within budget and the quality of work was excellent.
DPW Director for the US Army
Contact AB About Your Engineering Projects for More Information
If you're interested in learning more about any of AB's engineering and engineering support services, contact us today. You can reach our Baltimore office by calling 443-729-2650 or our Lanham office at 301-306-3091.
Our staff will be happy to discuss your project needs, budget and timeline, as well as our experience and processes. We look forward to working with you!